Life in Sedona offers a haven for nature lovers and the cultural minded alike. Homes are cradled by national forests, magical red rock mountains, pristine skies and an unspoiled, babbling creek. Residents experience nature at their doorstep with exceptional, world-class amenities and an upscale lifestyle at their fingertips. A strong sense of community and a secure lifestyle attracts retireesretires, celebrities, authors and tech giants from around the globe. Located less than two hours north of metropolitan Phoenix, Arizona and just two hours south of the famous Grand Canyon, Sedona stands about 4300 feet tall above sea level and provides perhaps some of the most spectacular vistas on earth.
WILL HAMBURG REALTOR (928) 323-0031
Welcome to Sedona! When you are looking for a home in Sedona, look to Will Hamburg.
Will Hamburg is a third generation REALTOR. and Real Estate Investor in Sedona. For decades the Hamburg family has been assisting families from around the world to find their perfect home in Sedona. As a Sedona native, Will can make your dreams come true with his expert knowledge of the area and determination to find the perfect place to call home. We look forward to meeting you!
Available 8 a.m.- 8 p.m. 365 days a year.
• 928-323-0031
• OwnInAZ.com • Will@OwnInAZ.com
• Realty One Group Mountain Desert
• 3150 W. S.R. 89A, Sedona AZ 86336
Sedona Avg. Price Per Square Foot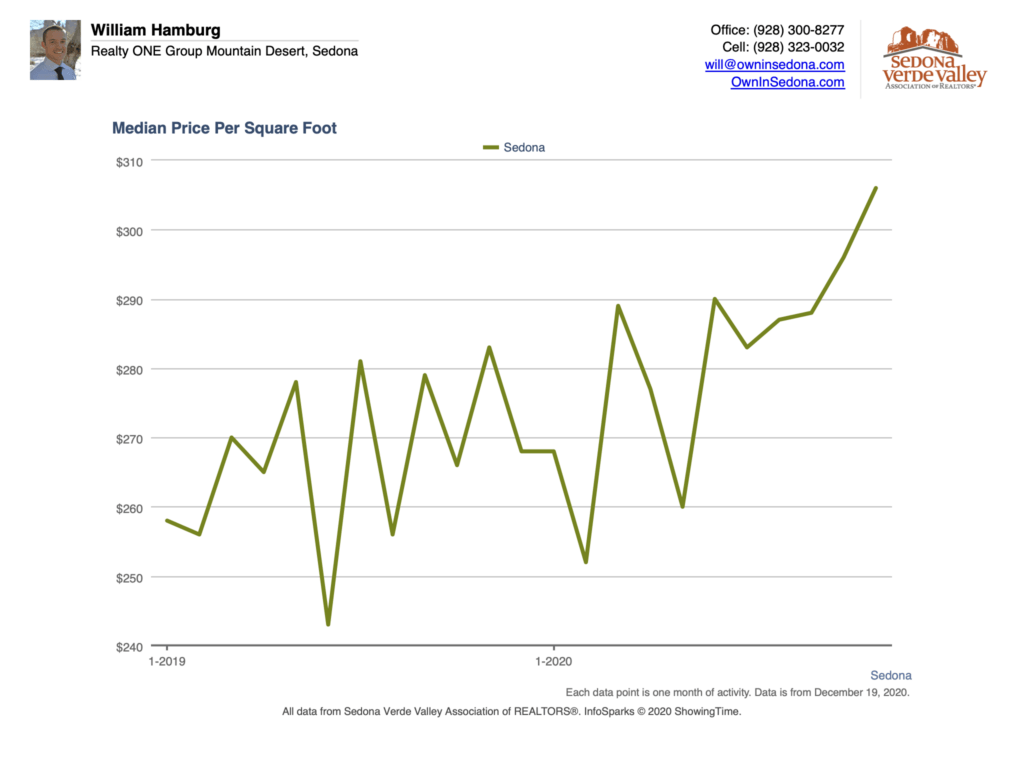 Sedona's bizarre real estate market in 2020-2021 has produced all manner of unexpected results. One is a shift demographic in buyers. For the past couple of decades, the mainstays of the market were Baby Boomers purchasing retirement properties for primary residences or second homes.
Generally, they have been relatively affluent buyers, but a home sale over $2,000,000 was a rarity until this past year. For the super-wealthy, Sedona tended to be more or a second or third residence.   
The new generation still includes Boomers, but is a bit more diverse. And, wealthier. And, they tend to want Sedona as their primary residence. First, we are seeing more younger families – with children, even!  Second, we are beginning to have a refreshingly greater degree of ethnic diversity.
Third, we are attracting more high-end professionals who prefer to work from a home-office with a red rock panorama than to subject themselves and their families to a high-stress urban environment.
They are here for the beauty, Nature, slower paced lifestyle, a sense of personal security, and, perhaps, spiritual fulfillment. Many also see Arizona as a wealth-friendly tax haven with less intrusive government. Yes, they do understand that Sedona is a small town with limited shopping and lacking the full spectrum of urban resources, but are willing to trade the malls for a higher quality of life.
It's a delightful time of year in Sedona with pleasant, sunny days and cool nights.
Always on the lookout for weather metaphors for the Sedona real estate market, as I am, we can point to a cooling trend with still plenty of heat in the market.  The number of Closed Sales across all sectors has tailed off appreciably, but it remains strong Seller's Market with inventory historically low, Pending Sales quite strong, and prices plateauing, yet still inching up.  Click here for details and comprehensive statistics.