y Ted Grussing
… we made it, we're here and beginning another terrific year … it is hard to complain about much when you are alive and able to enjoy all that is available to us on this little planet we call home.
We'll start the year with this photo of a Grackle that I shot whilst he was perched on the handrail of a steel dock at Bubbling Ponds Fishery in Page Springs this past week. He may be looking for some food in the bucket at the end of the dock … checking us out or perhaps wondering what the new year has in store for him … for now it is life, challenges for sure, but daily there are choices for her to make. In a few months a nest to make, eggs to lay and a new family to raise, feed and protect.
Below we have a Great Blue Heron that is leaving his place on the shore of Lake Pleasant in search of a hunting ground where we are not. The water level is rising in the lake and more places are accessible to us that a couple of months ago were dry land. This wing position is one of my favorites … the sense of power, primary flight feathers curled up by the enormous power being applied and the overall symmetry of wings and body.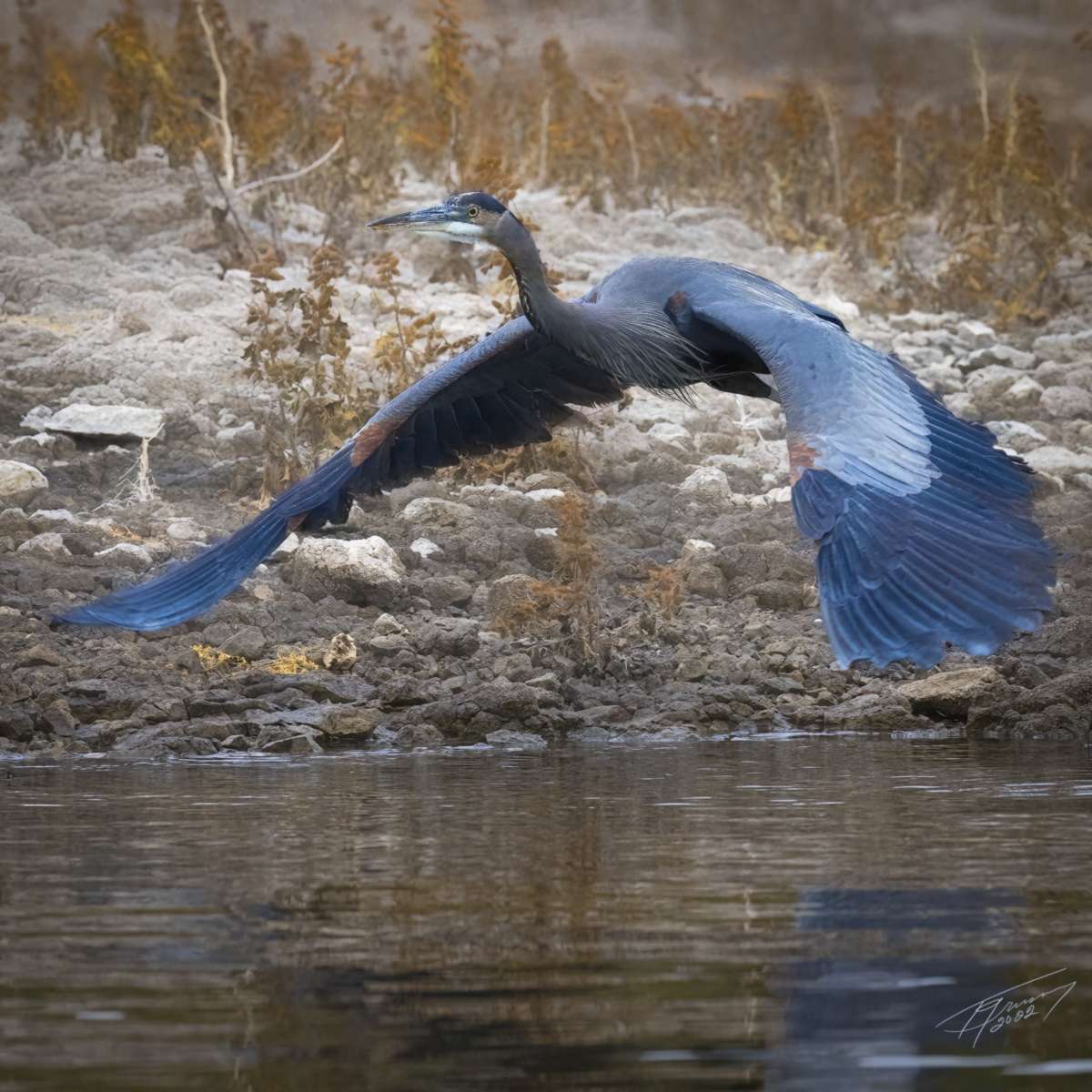 Back to the lake Tuesday and Wednesday … hoping for more birds to show … the eagles are there and more of the other raptors are showing up too … golden eyes and mergansers as well as the mallards … herons and egrets … gulls and ravens and says phoebes and a few shorebirds. Even if I were not down there shooting them, it would be a terrific day just observing them in their own habitat.
We've started the year … lets be thankful for the gift of life … ours and all the others we share this planet with, human and all other forms of life. We're here!
Cheers
Ted
To-morrow, O to-morrow!
Fast fall the fading years. A thought, a dream
Of gentle words; of faith and love a theme;
A smile, a step or two, and all is done.
Quick is the veering stream of life full run;
Yet in the crimson west still gleam
To-morrow and to-morrow's endless dream.
excerpt from To-Morrow by Max Ehrmann
###
The easiest way to reach Mr. Grussing is by email: ted@tedgrussing.com
In addition to sales of photographs already taken Ted does special shoots for patrons on request and also does air-to-air photography for those who want photographs of their airplanes in flight. All special photographic sessions are billed on an hourly basis.
Ted also does one-on-one workshops for those interested in learning the techniques he uses. By special arrangement Ted will do one-on-one aerial photography workshops which will include actual photo sessions in the air.
More about Ted Grussing …