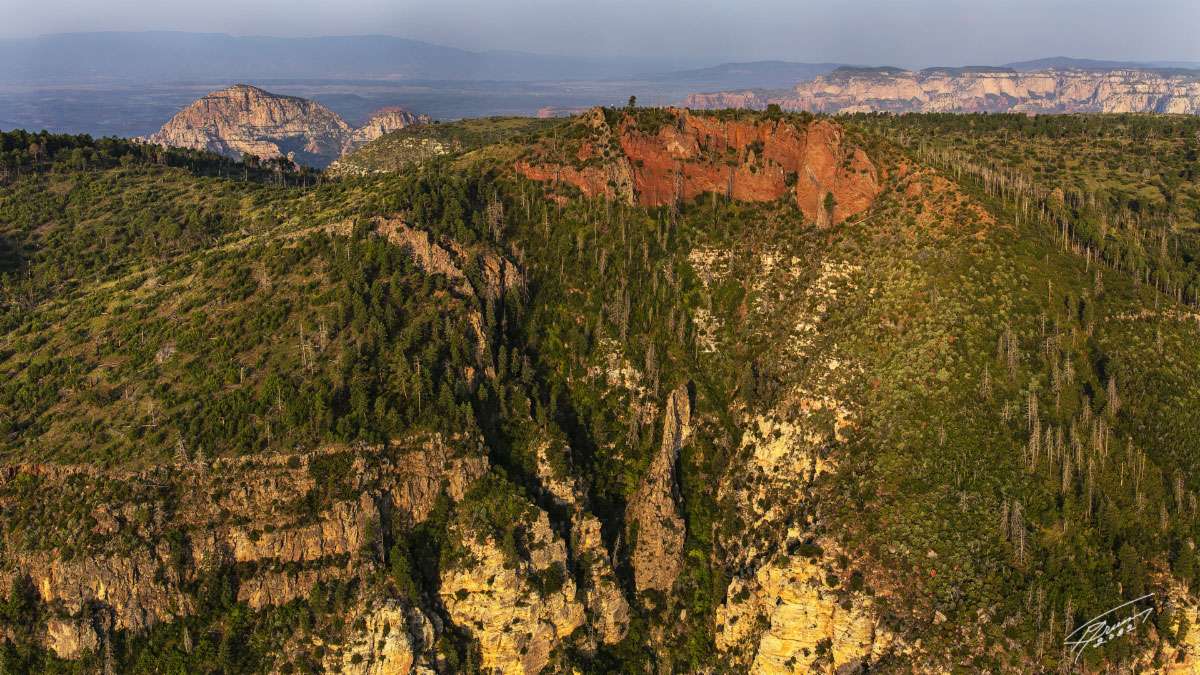 … flying at or below the elevation of the mountains you are shooting gives a good perspective that you do not get from above them. In the photo above you are looking at the backside of Wilson Mountain (7122′) in Sedona and the remnants of the volcanic cone that was instrumental in forming the mountain along with earthquake faulting and erosion. This photo was taken over Oak Creek Canyon looking to the west and from a about 100′ above (7244′) the mountain and shows about 60% of the cone … faulting cut the other portion of the cone off, moved it to the south and dropped it about 400′. To the left of the cone and behind the mountain you can see Thunder Mountain and way beyond it Mingus Mountain. The other side of the mountain faces Long Canyon.
The photo below is of Red Mountain about 26 miles north of Arizona Snow Bowl on the left side of US 180 as you travel north. It is 7,968′ high with a prominence of 1000′ … I was about 100′ above the mountain top when I took this shot (8061′). The trail into the maze of Hoodoos runs up a wash from bottom center of the photo. It is an easy hike and once inside the amphitheater you will be dazzled by the beauty of them towering hundreds of feet above you.
Fun weekend here … many visits with friends and today I finished the article and photos for the September edition of Sedona Monthly Magazine … that marks the beginning of my second year doing a monthly feature for the magazine. If you have not looked at it, it is the finest publication featuring all things Sedona and perhaps the best printing and paper of any magazine in Arizona. Check them out.
Another fantastic week is underway … a day and moment at a time … only you can make them great. Make good choices, be kind and smile a lot because you are actually here and breathing! Doesn't get any better than that so make it count.
Cheers,
Ted
Sweet summer, may I sing as thou, for every leaf of thine
is pregnant with music in the soft winds, and every rose
inspires the tenderness of song. I yield myself to the thousand
enchantments of sky and field and wood, and play again
like a child on the soft green of the earth. And as the God of
the universe has made thee to bloom in tenderness, so also
may my heart be softened, and the gardens of my life
be made to bloom again.
excerpt from A Prayer Of Summer by Max Ehrmann
###
The easiest way to reach Mr. Grussing is by email: ted@tedgrussing.com
In addition to sales of photographs already taken Ted does special shoots for patrons on request and also does air-to-air photography for those who want photographs of their airplanes in flight. All special photographic sessions are billed on an hourly basis.
Ted also does one-on-one workshops for those interested in learning the techniques he uses. By special arrangement Ted will do one-on-one aerial photography workshops which will include actual photo sessions in the air.
More about Ted Grussing …