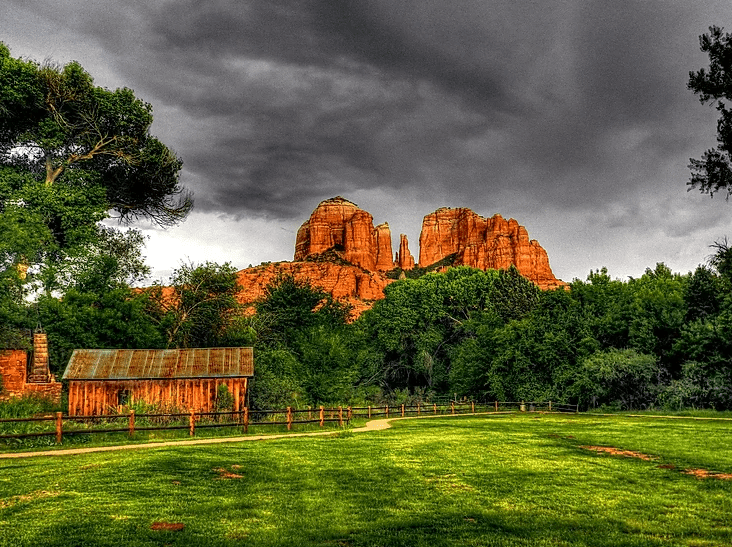 The answer depends on what you are looking for, and to most, the weather is the main deciding factor. With its four mild seasons, there is something for everyone year-round.
January-February
Keeping in step with your New Year's resolutions, Sedona's winter begins the year with the Sedona Health and Nutrition Conference and the annual Vegfest. Then in February, it's off to the races with the Sedona Run.
February can be relatively cool but steaming with action at the International Sedona Film Festival, where creative debuts of independent films take the lead, climaxing with the opening of Sedona's primary season.
March-May
March through May marks the blooming not only of the high desert's fabulous flora and fauna but it's a great time to get out into the backcountry. Hiking is one of the many free things you can do in Sedona. Climbing up to the many vortexes in Sedona is also free. Another favorite free thing to do in Sedona is meditating at Sedona's Stupa. In mid-month, you can glean some great, new positions at the Sedona Yoga Festival.
Springing with a bouquet of outdoor activities like hiking and biking, Sedona is ready for action. You'll be in luck as you watch the long-standing tradition, the St. Patrick's Day Parade and the kick-off of the world-class Sedona Mountain Bike Festival with over 200 miles of killer, red-dirt trails and heaps of vendors.
Things begin to spice up with Tlaquepaque's Cinco de Mayo Festival with fiery, flamingo dancers and traditional Mexican food from El Rincon.
Strolling through the shops and galleries throughout Sedona becomes a favorite pastime of the season. Uptown Sedona springs alive with scenic jeep tours along with psychics and vortex tours. These are just a few of the things that make Sedona special. While you're at it, grab some Sedona souvenirs.
Sedona's Photo Fest gives you a clearer picture of how to better capture those Sedona vistas.
Don't miss the Sedona Star Party! It's also time to take a cosmic journey with Sedona Evening Skies, where you'll feel like you can literally touch the stars.
Sedona's UFO tours take another peek into the night skies revealing otherworldly things we cannot explain.
July- September
Better known as the Rainbow Season, Sedona's scenery is painted with a plethora of rainbows following a daily dosing from the monsoons. Sunsets are unforgettable, galactically-gorgeous masterpieces in the sky and remind us why Sedona is so special. Don't forget to sign up for the Sedona Photography Symposium, just in time to brush up on your photographic skills and unleash your inner artist.
September winds down with the Sedona Wine Festival, where you can sip and purchase award-winning local wines and dance the day away.
October-December
October opens with a harvest of talented artist and gallery shows displaying one-of-a-kind, world-class creations. This is one of the key things you can do for free this month. Gallery-hopping and shopping become the premiere activity from Gallery Row to Uptown Sedona. October's calendar is painted with the colorful Sedona's Art Festival and the Sedona Plein Air Festival.
Santa Claus comes to town to light up the Uptown Christmas tree at this free Sedona event. The Sedona Chamber Ballet performs the classic Nutcracker to highlight the season. Mother Nature occasionally frosts the Red Rock Cake with a dusting of glistening snow. Taking pictures of this enchanting event is just one of the free things you can do in Sedona.
So, no matter what time of year you decide to visit you can be assured that there is always something magical waiting for you. These are just a few of the favorite things that make Sedona special.